1- Epithelial lesions
■ Squamous papilloma: a sessile or pedunculated lesion of viral origin. Manage by shave excision biopsy.
■ Seborrhoeic keratosis (senile verucca): single or multiple plaques or pedunculated lesions occurring in middle-aged to older adults. Perform an excision biopsy.
■ Keratoacanthoma: solitary, subacute nodule of possible viral origin characterized by a keratin-fi lled crater, or horn. The differential diagnosis includes squamous cell carcinoma, basal cell carcinoma and seborrhoeic keratosis.
Where there is no indication of spontaneous resolution, perform an excision biopsy which must include deep tissue.
■Pilar cyst: also called sebaceous or epidermoid cyst. Presents as a mobile subcutaneous or dermal mass containing desquamated cells and keratin. Manage with complete excision with preservation of overlying skin.
■ Molluscum contagiosum: single or multiple periocular lesions which shed poxvirus particles and may present as a chronic follicular conjunctivitis (Fig. 1.18). Manage by direct excision.
Adnexal lesions
■ Lesions originating from eccrine sweat glands include sudiferous cysts, which may occur as solitary or multiple lesions on the eyelids, and syringomata which
present as multiple small pale papules on the lower lids. Manage by surgical excision or carbon dioxide laser.

■ Lesions of the apocrine glands of Moll include apocrine hidrocystoma which presents as a small fluid-filled cyst on the eyelid margin and cylindroma, a dome shaped pink nodule. Extensive involvement of the scalp is described as a turban tumour. Excise intact if troublesome.
■ Lesions of hair follicles include trichoepithelioma, trichofolliculoma, trichilemmoma, and pilomatrixoma. All require an excision biopsy.
Vascular lesions
■ Capillary haemangioma: superficial 'strawberry naevi' are the most common. capillary hemangioma's usually resolve in the first decade of life. Larger lesions may cause astigmatism and mechanical ptosis. Where there is a risk of amblyopia, treatment may be required, this includes oral or intra-lesional injection of steroid.
■ Naevus flammeus ('port wine stain'): this flat red-purple vascular lesion is formed of dilated capillaries, is usually unilateral in distribution, and does not blanch with pressure (unlike a capillary naevus). In addition, it does not involute spontaneously, and is associated with other ocular and leptomeningeal vascular lesions in the Sturge-Weber syndrome

■ Pyogenic granuloma: occurs after trauma. Histology shows nongranulomatous inflammatory cells, fibroblasts and blood vessels. Treatment is surgical excision.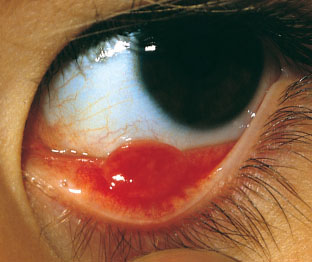 Pigmented lesions
■ Pigmented naevi: common lesions that do not require excision in the absence of atypical features such as growth, change in pigmentation, or lash loss. Note that basal cell carcinomas may be pigmented, and melanomata may lack pigmentation.
Xanthomatous lesions
■ Xanthelasma: presents in the medial upper and lower lids in middle-aged adults, and is associated with hyperlipidaemia in ≈50% of cases. Treatment options include surgical excision, and carbon dioxide laser.